Prophetic Word given on 2023-11-11 around 9:00am
Note:
Again this one contains a bunch of metaphors, but as always, ask the Holy Spirit to lead and guide you through this word to get the full understanding and wisdom of the details as we prophecy in part.
Beginning of Prophecy:
It grows and grows and grows…
It grows like weeds, yet faster and higher and chokes everything on it's way.
A field, once you could see beautiful flowers has become a jungle-style boscage, where truth, righteousness, power love and a sound mind disappeared.
All you see are weeds of insanity, violence, fear and all sort of wickedness and lawlessness.
America, was once a beautiful field I loved to walk, like a wonderful well maintained garden.
Little by little you let the weeds grow and spread all over until it went completely out of control.
You blamed other nations for that, claimed they sowed all the corruptible weeds.
But indeed the sowers, those of the worst wickedness are right in your midst, in your own land.
And worse, you have been spreading all your evil lawlessness and wickedness and Hollywood fantasy idolatry all over the world.
If this is not enough, you punished all those who did not dance to your hate-filled songs and played in the same sand-box where your dogs filled with their excrement's.
If you would have planted the weeds only on your own soil, I would still have mercy with you and would patiently wait for you to turn back to me and root out your weeds.
But as you have committed and promoted adultery with and to all nations, stolen everything that doesn't belong to you, murdered innocent babies and old ones as well all over, and bore false witness against your neighbors and as well coveted their everything, down to their values and culture…
So the same way I will not spare you!
I will uproot all your weeds including the plants that don't bear any fruit and those that bear evil fruits.
Long ago, gradually you decided to turn away from Me and followed other gods that can't speak, hear, see, eat, smell, taste or feel.
You invited them and gave them immunity and all nutrition they asked for.
You fed them so they could grow, and then sent them out to all the 4 corners of the earth to spread their lies, to steal, kill and destroy.
Beside that they cast their disgusting fruits of fear upon each and every nation.
Many of the beautiful flowers who have grown and blossom in you midst have been spoiled by their worship of Mammon.
Yes, there are a few beautiful and pure flowers left.
These are the ones where I will command My angels to protect and nourish with holy fertilizer around their minds, so they shall be the light in the coming darkness.
The season, you called the great depression was only a small warning sign, which I let happen, during a time when especially your leaders started to desecrate and defile the gardens of their neighbors in other nations.
Compared to the coming darkness, this was a picnic in the park.
I give you over to the weeds and the ravenous wolves, both the real ones and the ones in sheep clothing, that will devour your land.
Woe, Woe to you oh Babylon.
Don't weep when your time is up, nor for what is coming.
All your harlotry is nothing to feel sorry about.
No other nation except Israel had so much favor as you had.
You have seen blessings over blessings, all the mighty works of My hands and yet you have not repented from your sins as you walked further and further away from Me.
Tyre and Sidon would have repented in sackcloth and ashes and so My Name will have been glorified in their midst – and their judgment will be more tolerable.
Arise and shine My bride for your time has come.
The time of singing has come and the voice of the turtledove shall be heard all over.
Though the grass withers and the flower fades, you, who live by My word will stand forever.
You are and your shall grow like the lily among thorns.
America will fall and other nations will shake and tremble, but those who stand on My rock of salvation shall abide forever.
Be ready, vengeance is mine and I will not delay.
Yes I will not delay, for everything I have planned, regardless of how many laugh against those who declare My soon coming.
As I have spoken it will be in a moment where no-one expects, when they will be eating and drinking, marrying and given into marriage.
A moment in time, a twinkling of an eye, like a thief in the night it shall be.
And when I come, will I find faith on earth, anyone with faith, even only one?
Who has believed our report?
And to whom the arm of YHWH had been revealed?
Who will obey?
So many signs and yet so many are blind and naked and poor and don't believe.
Buy from Me gold, refined in fire, that you may be rich.
White garments I would have for you to cover your shame, and oil to anoint your eyes that you stop staring all day long at abominable things, things you fornicate with.
If you have ears to hear, listen to My word, listen to what the Holy Spirit is saying.
Repent! Repent! Repent!
and turn from all growing wickedness and evil of this world.
I still forgive those who turn to Me and are willing to learn what it means that obedience is better than sacrifice.
Obey My commandments and I will bring you home!
Don't harden your hearts as your fathers acted proudly, when they did not heed to My commandments.
Grow like plants on good soil, which is My word, and your hearts will be soaked with the living water.
And even in these last days in growing darkness you can be a light and bear fruit, 30, 60 and 100 fold.
Trust and obey and great will be your reward in heaven.
End of Prophecy
Note:
As pointing to the message about 11:11
It happened, just as I typed down this prophecy and this right at the moment when I typed the words ″Repent!″, the clock turned to 11:11 at 11:11am
This can't be a coincidence.
But yes, persistent repentance is the key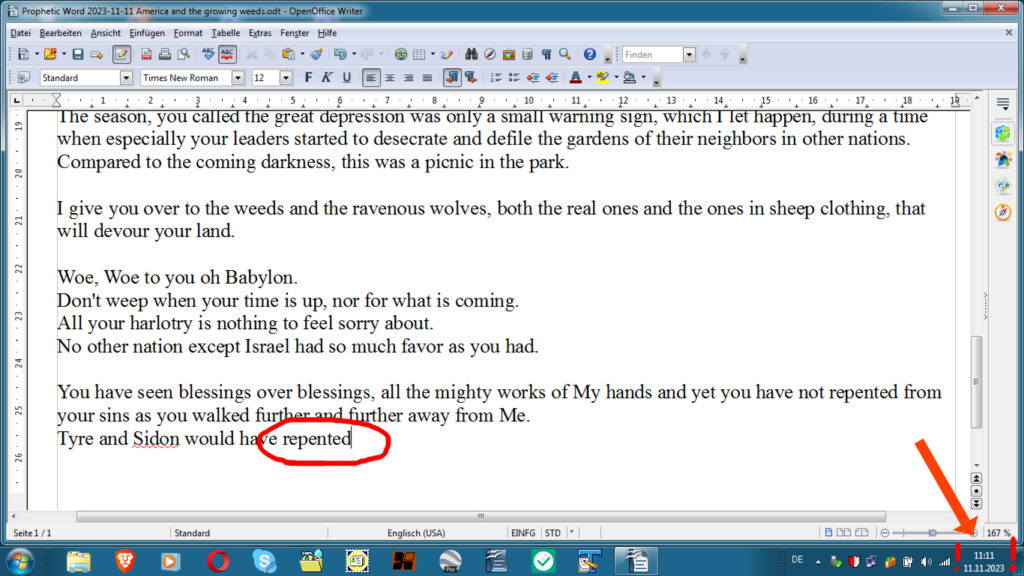 ---
Links to the Videos on different Platforms – you can decide which one you prefer:
Bitchute
Or watch it directly here on Rumble